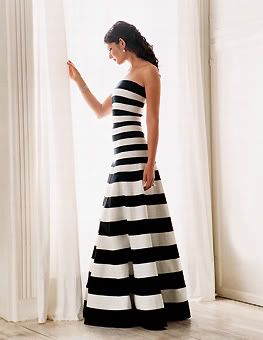 ...this would be the dress I get married in.
As it's by Oscar de la Renta I would have to be a hell of a lot richer. I love it though, it's so daring, so outrageous, so attention grabbing. I love black and white stripes, I always have. I think it's my one act of attention grabbing as generally I'm pretty quiet and most definitely an introvert. But black and white stripes speak to my wild side, tease it out of me and make me feel like dancing.
The first black and white dress I bought was a true dancing dress. Almost indecently short, with a sort of pulley thing on one side so you could hitch it up even higher, were you feeling brave. One shoulder, stretchy lycra material, stripes an inches wide stretching from shoulder to hip. Oh yes, it was a party dress.
I bought it when I was 17, I had just left home and was in my first year at art school. I made one friend in my class, a completely outrageous girl called Leigh Anne. She wasn't very popular, neither was I. She was loud, a bit course and altogether too working class for the cool types at our refined (stuck up) art school. I was quiet, reserved and a complete mystery to most. Leigh Anne didn't care though, she couldn't give damn what people thought of her and the stories of her rock and roll lifestyle kept coming in a broad Glaswegian accent that bewildered most in our posh city art school. Seemingly complete opposites, we hit it off immediately.
One day we went shopping together and with an enthusiasm I was not used to, Leigh Anne convinced me to spend money I didn't have on a black and white lycra mini dress. She bought me a pair of green enamel earrings to wear with it. I wish I still had them.
I wore that dress until it started to fall apart and every time I put it on I felt myself channelling a little of Leigh Anne's confidence and Joie de vivre. The dress and I danced to Blondie, Goldfrapp and Moloko, all live and all fabulous. We drank cocktails and celebrated 18th birthdays. We partied into the early hours then slept on the bus home the next morning. Still yawning, we sat through lectures and presentations before stumbling back to our shared flat and falling into a deep sleep. I haven't worn it for 3 years, taking the holes that started to appear as a sign that it needed to sleep for good.
But oh how I loved that dress and how I wish I had a picture of my 17 year old self in it. I wore it with thick black tights, tights that had a row of tiny holes down the back of each leg, tights that caught The Boy's eye long before he was brave enough to talk to me and a pair of flat, black suede pirate boots, wrapped with pink velvet ribbons. Sometimes I replaced the green enamel earrings with long dangly ones, dripping in pink plastic stars, or the occasional pink plectrum. Oh yes, I was an art student.