Every fortnight the Farmer's Market comes to our local park. This is no ordinary park, it is an beautiful Victorian creation with sweeping views of the city and grand stone stairways leading to a wide and elegant oak lined pathway. It is on this pathway that local butchers, bakers and pakora makers gather to sell their wares.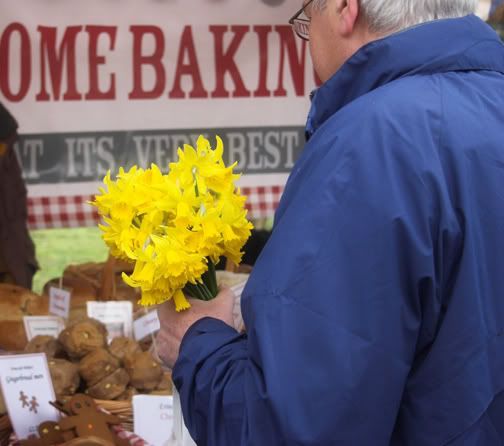 Things we came home with this week-
One organic sprouting broccoli, all dark green leaves and rich purple heads
Four organic parsnips, encrusted in mud with roots tapering to threads
Two indecently large and delicious muddy organic carrots, mistaken for sweet potatoes
One large organic batard, so soft and fresh we ate it within hours
One obscenely heavenly chocolate brownie, the best chocolate brownie in all of the world I would be willing to bet
One freshly barbecued ostrich burger, in a brown roll and smothered in tomato sauce (The Boy's breakfast, I'm a vegetarian)
Six large organic eggs, a small downy feather nestled in the box
Two freshly smoked mackerels, from a man with a sweet smile
A bulb of garlic that tastes as garlic should
10g of kalamata olives, small purple bruises in a clear plastic tub
One fruit scone, crumbling in a brown paper bag as it is nibbled on the way home.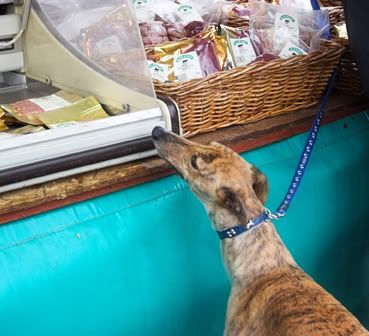 Things that made my eyes wide and my mouth water, things I wish we'd bought before the purse ran empty -
A bunch of yellow daffodils, whispering that spring might be around the corner
A freshly baked flatbread, dotted with red peppers and roasted garlic
Fresh pesto, ladled into a tub by the woman who always gives you too much
Organic bread, of every variety
A small tub of vegetarian mousaka, from the Greek man with the delicious home made meals
Vegetable pakoras, from Tastes of the East, oil staining the brown paper bag see through
Organic bagels, oniony and delicious.
More brownies.
Fruit tarts, tiny and bite sized with glazed strawberries, such a treat in winter
Handmade soaps, dotted with lavender heads and smelling so fresh and clean