These hand made lace bracelets would make gorgeous and unique bridal jewellery. Jewellery with a conscience...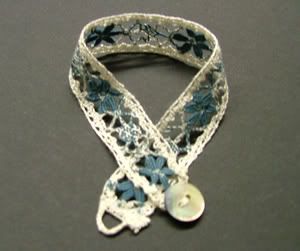 "Each purchase provides much needed funds to those who have begun the long process of rebuilding their lives. Our Lace Bracelet is designed to be a decorative adornment to any wrist whilst making a visual statement of your support for the women who make them."


In December 2004 Sri Lanka was among the countries hit by the Tsunami, which killed
between 265,000 and 310,000 people and decimated the homes and livelihoods of many of the survivors.
The Power of Hands Foundation was set up by
Andrea Galer, a film and television costume designer who also designs bridal wear and who has sought to use materials from uniquely skilled craftspeople around the world. The Galle region in the south of Sri Lanka has long been renowned for its crafts, particularly its lace making which was introduced by the Portuguese in the 1th century.

Andrea set up the Foundation to help try to repair the livelihoods of the Sri Lankan lace makers whose lives had been devastated by the Tsunami and the loss of the tourist industry which has all but vanished in its aftermath.

The Power of Hands Foundation sells beautiful lace bracelets and lace by the meter online and Andrea uses it extensively in her costume designs for the BBC and in her bridal designs.