Jenny Packham is one of my very favourite dress designers. Her dresses are truly beautiful and the antithesis of the strapless white meringue. They were the first wedding dresses that made me go 'ooh, pretty' and the first wedding dresses that made me think that a long white dress might just be for me.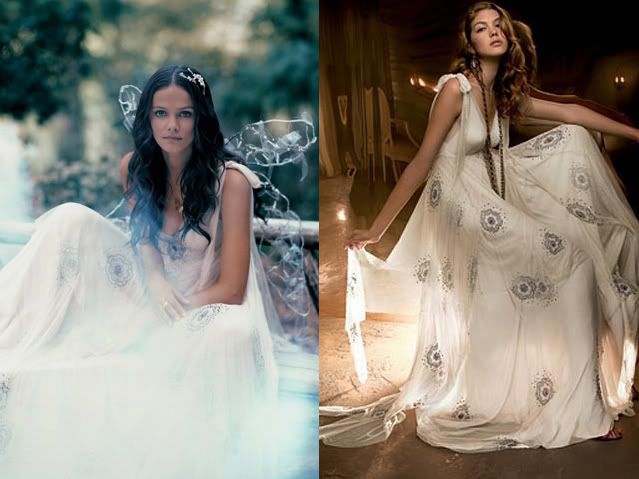 They range from the epitome of pretty to the epitome of sexy, evoking woodland fairies or 1930s Hollywood sirens. I desperately wanted to look like a Hollywood siren, to ooze glamour and sexiness and with the trepidation of someone who has found something that they think might just be perfect but who knows that they can't afford it I made an appointment at a terribly gorgeous and expensive dress boutique to try them on.
Unfortunately, or fortunately perhaps, if we are going to take into account my bank balance, my figure is a little more Twiggy than Rita Hayworth and looking in the mirror I felt like a stick insect draped in satin, horribly self conscious of my pointy hip bones and lack of curves. No matter how beautiful the dresses were on the hanger or how much The Boy and the shop assistant disagreed with me, I did not feel pretty. Or sexy.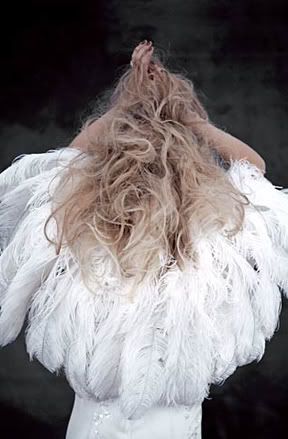 Secretly I breathed a small sigh of relief. I was spared from spending the next 18 months chained to preloved.co.uk, hoping and praying that someone just the right size would be willing to give up just the right dress at just the right price, all the while pulling my hair out as the weeks and months ticked away.
I still love her dresses though and I still believe that they are the most gorgeous in the world. Even if they didn't live up to my dreams.
Some more images which aren't as pretty but show just how beautiful the dresses are. Just in case you need further convincing. I will however forgive you if you are not convinced by the orange lipstick. Why, in the name of all that is pretty, would you top off a dress like that with orange lipstick?.....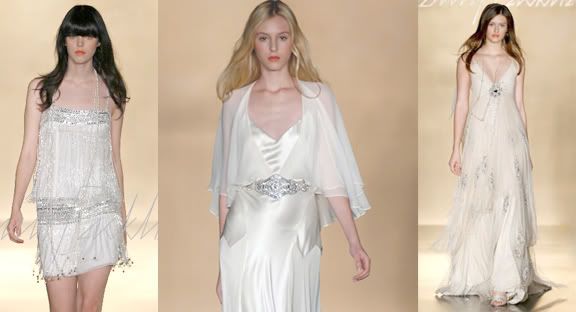 Paris, Berlin and Keira.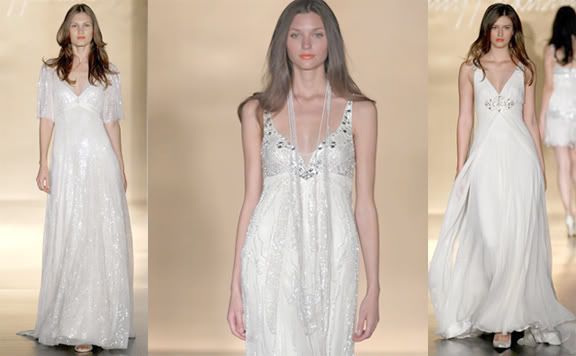 Tahlia, Papillion and Crystal.

All dresses by
Jenny Packham
and images from
Brides Magazine