I thought these buggers would never be finished. I thought they existed merely to torture me, to drive me insane and render me incapable of any speech other than the constant and continuous muttering under my breath of swear words and sentiments like "If we call off the wedding we won't need invitations...'

But they are done and the have flown the nest (and not via the living room window), well most of them have, there are a few stubborn ones that just won't leave but I will deliver them by hand if I have to...




They are 5x5inch squares of recycled watercolour paper backed with
Cabbages and Roses Cerise Hately
fabric, which I am indecently in love with. I want to cover our house in it. The Boy isn't too keen on my penchant for floral fabric, but he likes this one. It's the perfect blend of romantic and modern.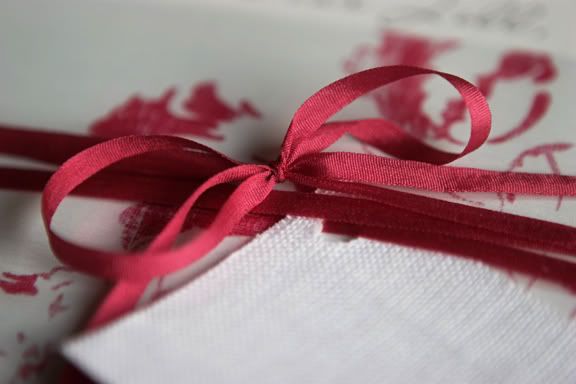 We got silk ribbon dyed to match the fabric (anal much?) by
Cam Creations
who are based in the US and were unbelievably helpful. Even with postage this was a sixth of the price of any in the UK. I love the internet. And
ribbon
.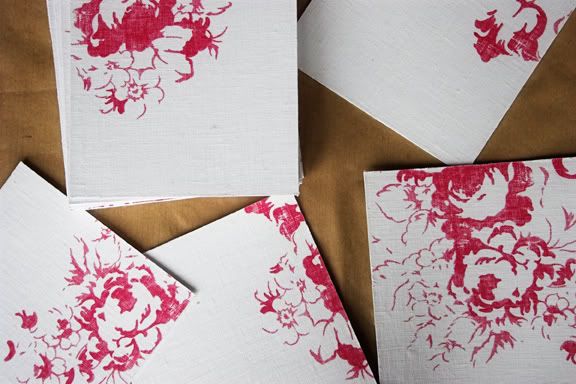 The print on the fabric was spaced out so much that it was impossible to get the same amount of print on each invite without wasting a tonne of fabric, so some have very little at all, but I like the variety.
The fabric is expensive so I bought it on ebay. And was sent a really bad fake. Which Cabbages and Roses replaced for me free of charge. Nice people,
Cabbages and Roses
.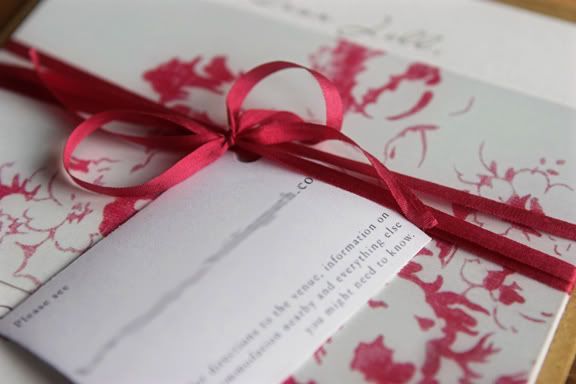 The little cards give the details of our wedding website where all of the usual 'invitation' information is. They were printed on recycled card and backed with white linen. Like our
save the date cards.
The
RSVP cards
were finally, finally finished....
So there you are, the finished article. For all of you who are making your own invitations, keep the faith - you
will
finish them one day. Even if you think you will go mad trying. You might, but that's a small price to pay for the overwhelming satisfaction of putting them in the post box. And saying goodbye to them and hoping upon hope that you will
never
have to do it again. Even though you now know you can.
Oh and I still don't like glue.