Increasingly I am falling in love with textiles. I've always loved antique table cloths, lace collars, embroidered linen and let's not forget the occasional chintzy floral print, but lately I've been seeing the beauty in more simple, more humble linens. Soft natural cotton tea towels with red stripes or blue checks, vintage Irish linen bed sheets completely unadorned but so substantial and crisp despite 50 years of use, even dish cloths, the most basic of textiles but so much more wholesome than those yellow plastic sponges with the scourer on top (which I hate and the Boy is inexplicably attached to, every time he goes shopping by himself he comes back with a new packet.)

So I let out a little sigh of yumminess when I saw these gorgeous traditional African textiles over as Saipua. They're hand woven by women in Ethiopia and Swaziland then sold by Creative Women, a business based in Vermont who are intent on introducing traditional African textiles to a western market while promoting fair trade practises and supporting employment for women in countries where most women are unemployed or working in appalling conditions.



"Creative Women began in Ethiopia. It grew out of my experiences and travels. I saw sex workers training to be hairdressers, only to find there were no jobs available; I visited rehab centers where women were sewing and embroidering beautiful table cloths, but the only market for their products was a small bazaar for the ex-pats living in Addis Ababa. I realized that by finding markets in the US, an opportunity existed to improve women's lives and to maintain a centuries-old art form by introducing the West to the beauty of Ethiopian textiles"



Creative Women.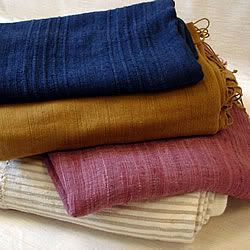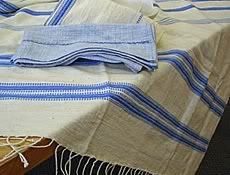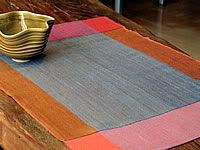 If you're lucky enough to live near

Saipua

(oh how I dream of living near Saipua) then please go and buy some immediately (and pop them in the post to Scotland? No? Well it was worth asking) and if not then check

here

for a list of stockists all over the US and Canada and a couple of solitary stores in Bermuda and Japan.

Beautiful textiles, ethically produced and supporting women in Africa. What's not to love?

All images courtesy of

Creative Women

and discovered via

Saipua

.