Where do you go to look at interiors? Where do you read about homes and look at pictures that leave you feeling inspired to paint your floorboards white and your walls mustard yellow? Where do you learn that we now call mustard yellow '

mimosa

'?



We have lived in our house for two and a half years. It looks like a garage. When we moved in it looked like a 1960s homage to the Vatican meets an 1980s homage to the pub carpet. We ripped everything out and made a lot of mess and now that we're finally starting to get rid of the bags of old tiles and 40 years worth of lino it's time to start thinking about how to make it pretty again. Or possibly for the first time.




I've studiously avoided design and interiors blogs for the last two years because when your house looks like a decrepit storage container and you don't have any running hot water and you have to flush the toilet with a bucket of water, other people's perfect white spaces filled with light and beautiful things make you want to cry. Our house now looks like a decrepit house and we still don't have any hot water and the bathroom is still frankly treacherous but there is light at the end of the rubble-strewn hallway and colour charts and wallpaper samples no longer fill me with despair.

But I don't know where to look for the inspiration that we need. We have lived like squatters for so long that we have forgotten that a flushing toilet does not a beautiful home make.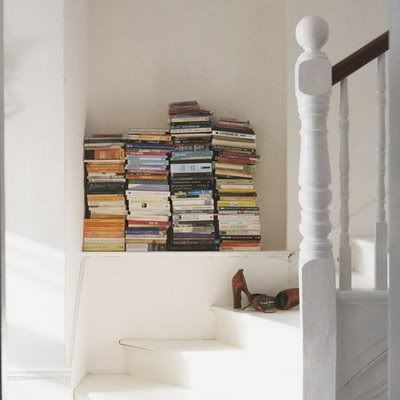 Tell me where to go dear readers. Tell me where the beautiful people live. Or at the very least where the pictures of where the beautiful people live live.

Thank you chickens, x






* I'm a bad blogger. I have no idea where I found these pictures. In fact I think that they might have materialised on my hard drive as the universe's way of telling me that it really is time to throw out our collection of empty boxes and consider getting rid of the spare toilet that is sitting in the hallway. If anyone knows who to credit them to please do let me know.

* do I get a prize for using the word toilet 307 times?